Trainers
The majority of our trainers at Diamond have fought in the big stadiums of Bangkok, and most are former champions and title-holders. At Diamond Muay Thai we have a large team of talented trainers who have been selected not only for their Muay Thai skills and pad holding ability but also their teaching skills. Currently we have 10 trainers- led by head trainer Kru Chok Rittisak, a former Ratchadamoen champion and winner of the prestigious yellow jacket (over 10 consecutive title defences). At Diamond we are strongly focused on teaching correct technique and all of our trainers are passionate about improving the abilities of their students. Our team is a strong unit with several trainers living with their wives and children in the camp – creating the family atmosphere that we are known for. Although training is intense and students are pushed hard, our trainers have easy-going and relaxed personalities, creating a fantastic environment for learning.
Contact us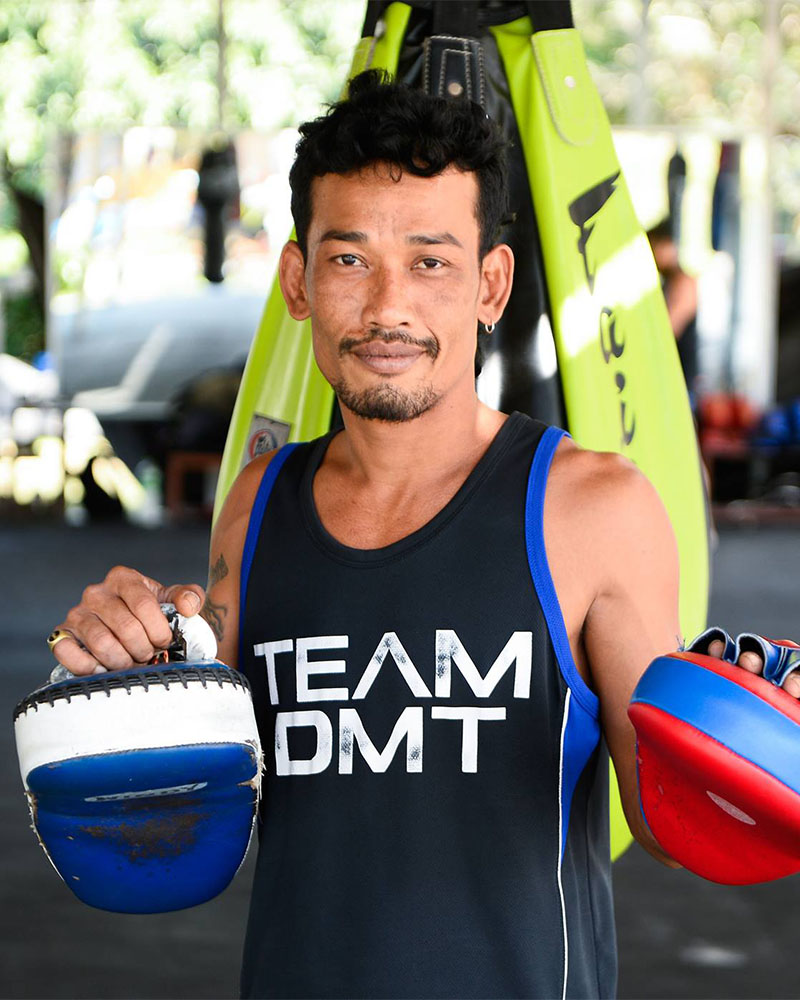 Mon is a veteran Thai boxer with 100+ professional fights. During his military service, Mon became Thai Army Champion at 54kg and after the army he fought his way to the top of the rankings in Southern Thailand. Mon's fight name was 'The Standing Wave'. It is an appropriate name reflecting the fluidity, balance and power of his technique and fighting style.
After hanging up his gloves, Mon returned to his jungle home in Chumpon. Here he developed his teaching skills in the most challenging of environments, yielding powerful methods for training Thai fighters. Mon is a skillful pad holder and trains students by holding pads in a traditional manner or by using a freestyle method of pad holding utilising his fast reflexes. This freestyle method is a key ingredient for preparing students to fight - it is 'up to you' to throw combinations. 
The dream of owning his own gym led Mon to Koh Phangan. Mon fast became a popular choice for both international students and professional Thai fighters, and his friendly nature creates a unique atmosphere in the camp. Mon has a true passion for teaching and passing on authentic Muay Thai skills to all of his students.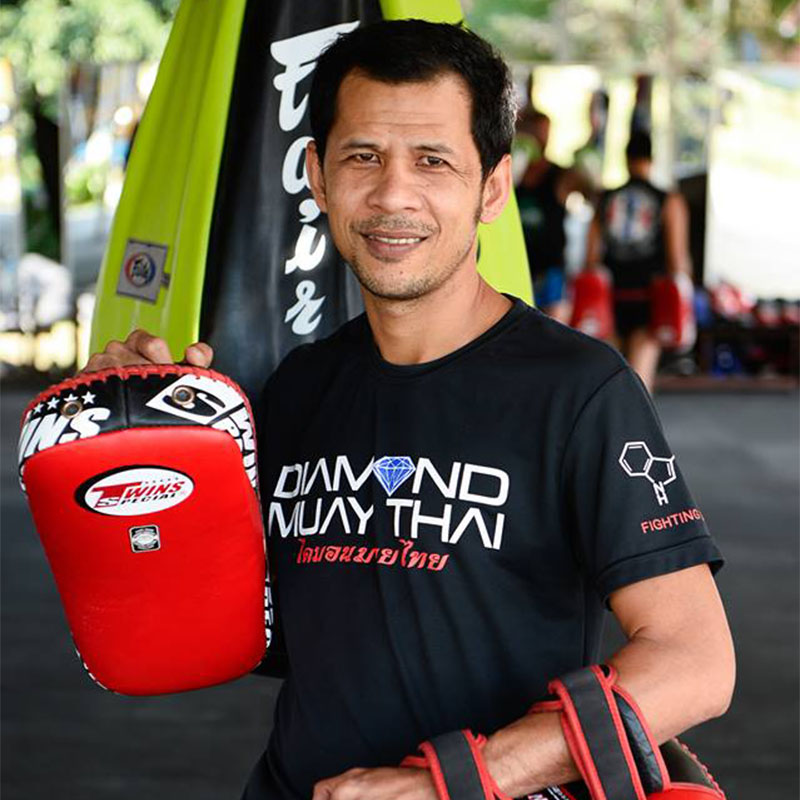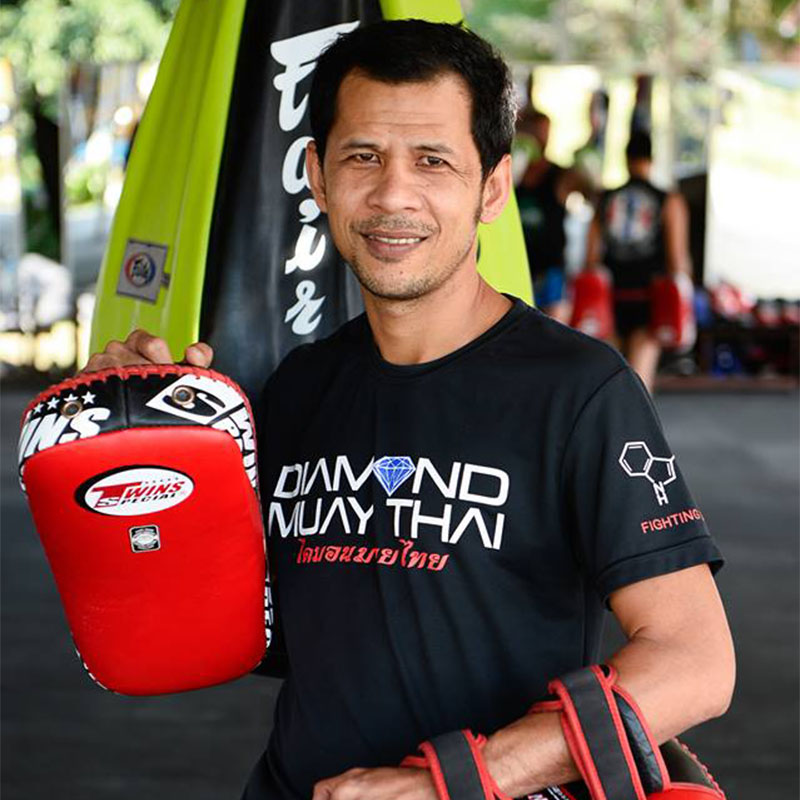 Kru Chok
Chok was born in Nakhon Si Tammarat, Southern Thailand, and he first fought at the tender age of 10 years old. After several years of fighting on the Southern circuit and winning numerous belts, he re-located to Bangkok where he fought at Ratchadamoen stadium. Chok soon found fame not only winning the Ratchadamoen title but defending the belt over 10 times against opposition of the highest level. This led to him being awarded the elusive yellow jacket for consecutive title defences. Chok is an incredible pad holder and is the head trainer at Diamond- ensuring that training sessions are always tough but also varied and interesting.
Fights: 200 +
Experience: 30 years
Achievements: Ratchadamoen Champion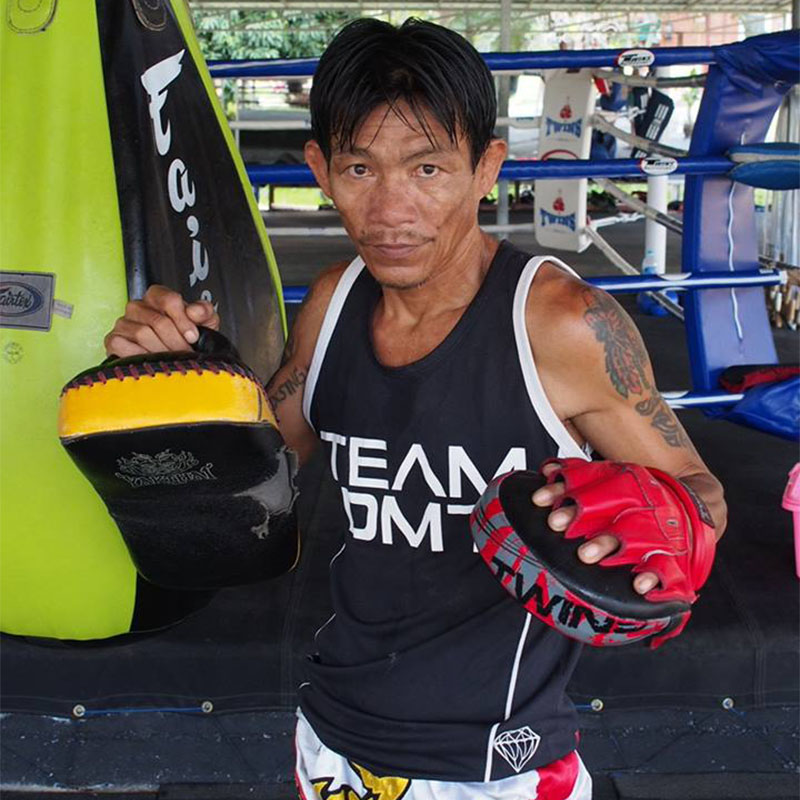 Santod
Santod is the brother of the late superstar Nokweed Davy and together with Nen- brings a tough Bangkok style of training to the gym. Santod has fought throughout the South of Thailand and also won South Thailand titles in multiple weight divisions. He has graced the stadiums of both Lumpini and Ratchadamoen in Bangkok where he fought out of the famous Davy Gym. Santod has a tall and slender physique, which compliments his classic fighting style which relies on his great fight IQ, fantastic timing and counter attacks. Around the camp Santod has a great personality and he always makes training informative but fun for his students.
Fights: 150 +
Experience: 30 years
Achievements: Sth Thailand Champion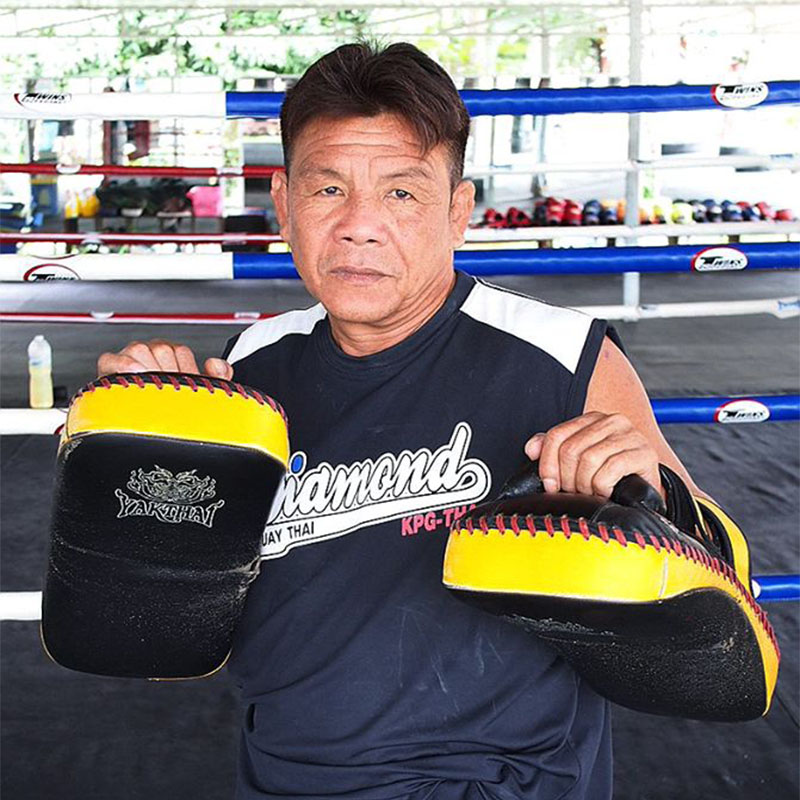 Nen
Nen, the oldest of 5 brothers (including Santod and the late Nokweed) is a commanding presence in the gym- offering hard, Bangkok style training where students are pushed to their limits. In a career which spanned more than 150 fights he picked up a South Thailand belt and went on to fight out of the world famous Davy Gym, alongside brother Santod. Nen was well known in the Bangkok stadiums for being a tough offensive fighter and many of his wins came from elbow KOs. Nen has been teaching Thai and Western fighters for many years, speaks great English and has a strong frame- making him a favourite pad holder for bigger guys.
Fights: 150 +
Experience: 40 years
Achievements: Sth Thailand Champion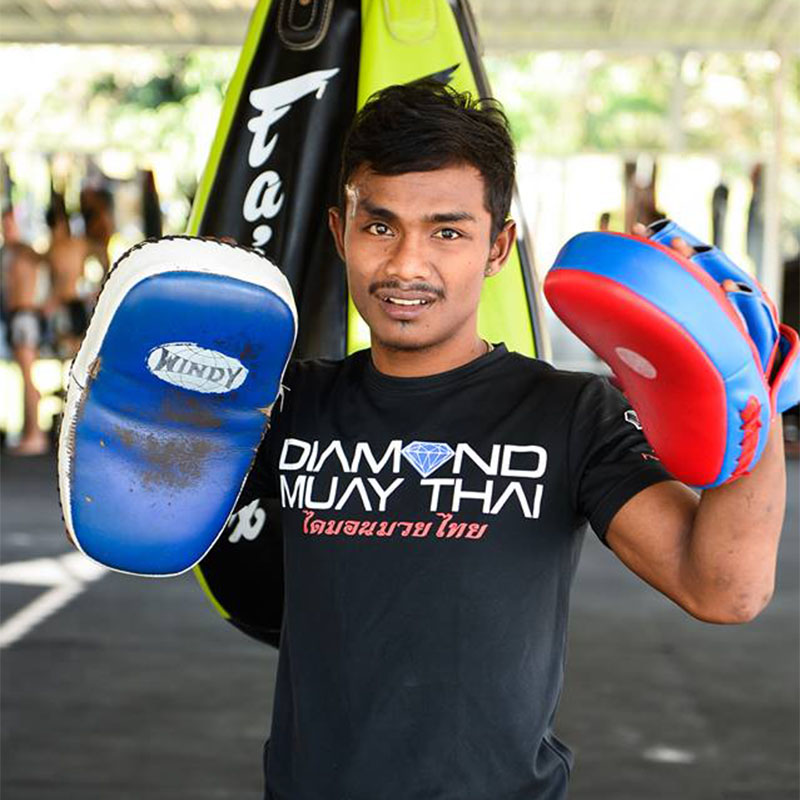 Jom
Jom started his fight career at 8 years old in Southern Thailand and has now amassed over 200 fights. Jom's fight name is Jompechid and he is a former S. Thailand Champion. He became a crowd favourite in his early twenties where he fought at Lumpini and Omnoi Stadiums in Bangkok. Jom was well-known for his aggressive style and heavy hands. He is still an active fighter for Diamond Muay Thai and he often headlines fight cards on Koh Phangan and Koh Samui. Jom has a kind heart and is great at teaching intermediate students and in developing their skills. He loves socialising with students and is a fan of Liverpool FC.
Fights: 250 +
Experience: 17 years
Achievements: Sth Thailand Champion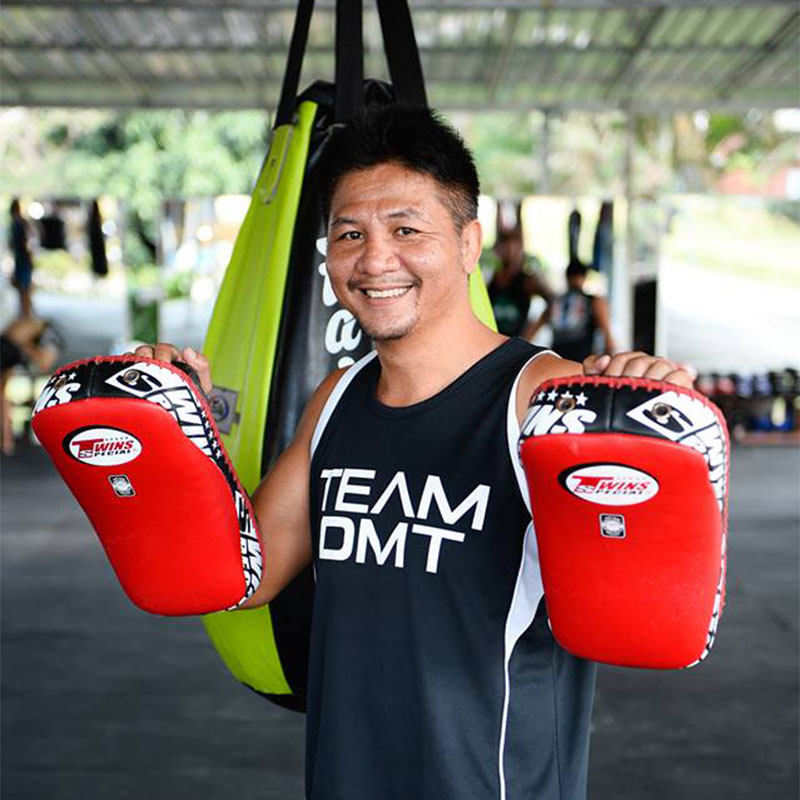 Pi Pot
Pot had his first fight at 10 years old, and went on to have a solid fight career which took him from Isaan to the big stadiums of Bangkok. At 24, Pot retired from fighting and started to hold pads for Thai fighters in his local gym in Ubon Ratchatani before learning English and moving South. Pot teaches classic Muay Thai technique, speaks good English and he is great on both focus mitts and Thai pads. Pot often holds pads for the stronger guys and girls and has a very relaxed teaching style, which brings out the best in students. Pot and his wife M live at the gym with their two children who both go to school on Koh Phangan.
Fights: 150 +
Experience: 29 years
Achievements: Bangkok Stadium Fighter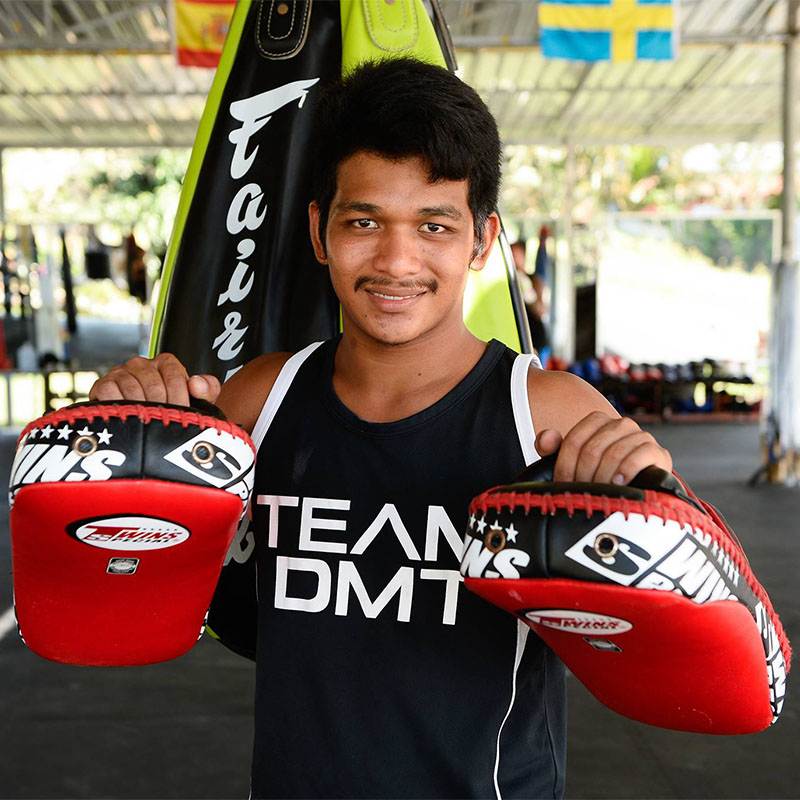 Mot Dam
Mot Dam has been a trainer on Koh Phangan for the last 4 years and his mother and father also live on the island. Mot Dam is a lively member of the team and 'Elvis' as he is affectionately known is a student favourite. Mot Dam has fought in various stadiums in South Thailand and is a well known fighter here on Koh Phangan. He has a solid build and loves to clinch and spar with students- often smiling (Thai style) when taking any punches or kicks. Mot Dam is still an active fighter and keeps himself in good shape throughout the year. You will often see him playing football with other students after training sessions.
Fights: 100 +
Experience: 15 years
Achievements: Sth Thailand fighter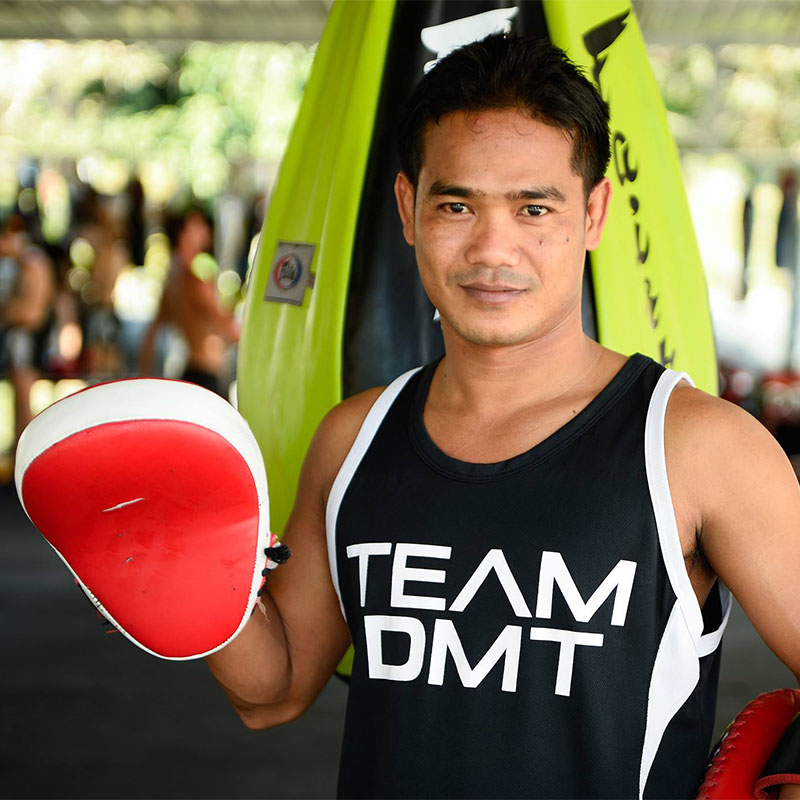 Nop
Nop's fight name was Chok Chai and he started his career in Pattalung at the age of 7 years old. Nop comes from a family of brothers who used to fight regularly at the same shows in South Thailand. At 18 years old Nop moved to Bangkok where he fought for an extended period of time at Lumpini Stadium. He fought with a classic style which was admired by the Bangkok crowds. Nop has a commanding presence around the camp and always goes the extra mile to make sure that students are happy with their training. Nop is an excellent clincher and will break the Thai clinch down to offer good advice and instruction.
Fights: 150 +
Experience: 28 years
Achievements: Lumpini Stadium Fighter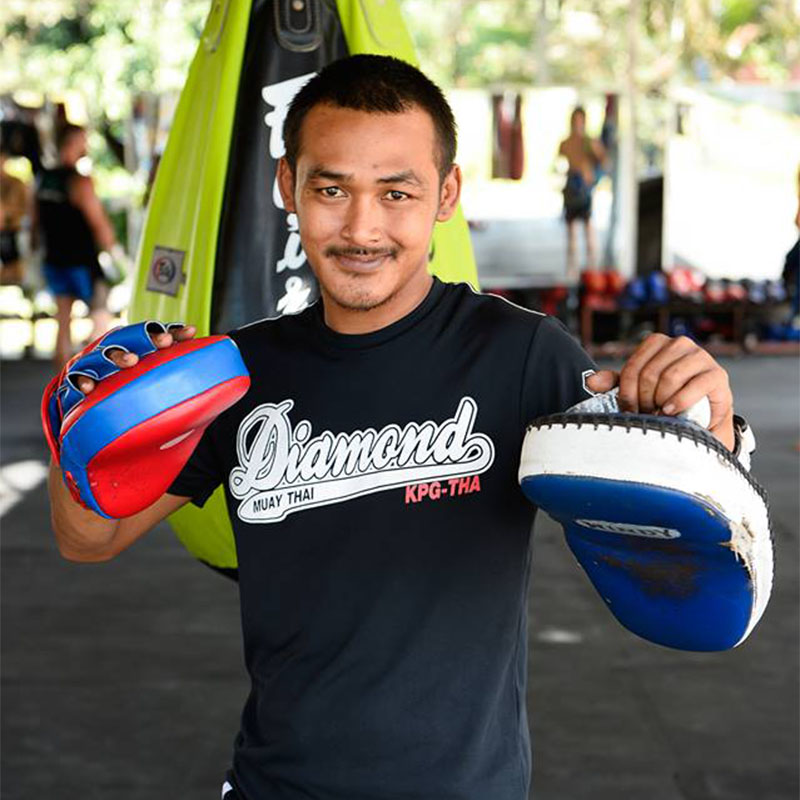 Mek
Mek started fighting in Hat Yai at the tender age of 6 years old- developing into a very dangerous fighter with lethal elbows. Mek's fighting name is Kanong Chol and he has fought throughout Thailand, in the famous stadiums of Bangkok and internationally. Mek is still an active fighter for Diamond Muay Thai and at 65kg often is paired up with large/experienced western opponents from other gyms on the island. Mek loves to spar with students and is a proficient boxing trainer as well as being exceptional at holding Thai pads. Mek is the joker in the pack, has a great heart and loves spending time socialising with students.
Fights: 300 +
Experience: 21 years
Achievements: International Fighter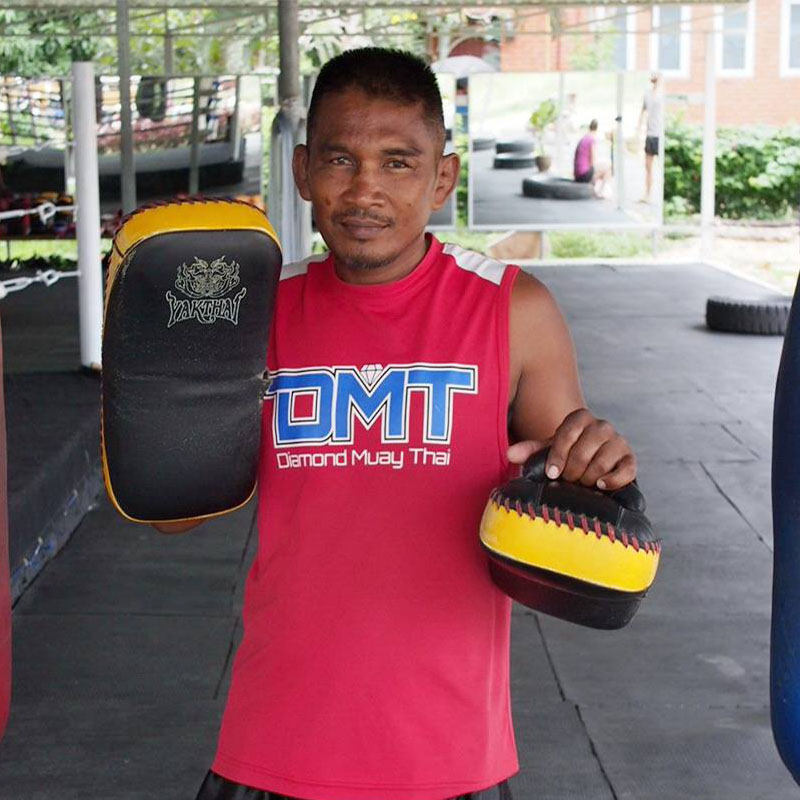 Dam
Dam is a new addition to Diamond Muay Thai but he has already established himself as a valuable member of the team. During his career, Dam fought mostly in the South of Thailand and was well known for his aggressive style of fighting. He loved using elbows and didn't mind going to war with his opponent. Dam had a wide frame and prided himself on his heart- always moving forward in a fight even whilst taking damage. Around the camp he has a quiet personality and Dam is always pottering about and doing small jobs outside of training times. Dam is a great sparring/ clinching partner and keeps himself in good shape.
Fights: 150 +
Experience: 25 years
Achievements: Sth Thailand fighter