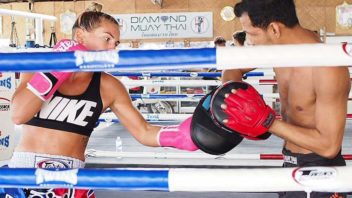 The majority of our trainers at Diamond have fought in the big stadiums of Bangkok, and most are former champions and title-holders.....
Contact us
Our camp has established itself as one of the leading Muay Thai boxing camps in Sth Thailand. Whether you are a beginner or a pro...
Our Prices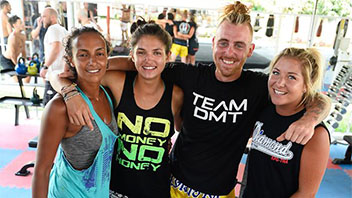 Train-and-stay packages are exceptional value for money, and living at Diamond is perfect for those who are looking both to train intensely and …
Read more
Our elite team of trainers includes Bangkok champions, regional Thai champions and trainers hand picked for their exceptional pad holding and teaching skills.
Diamond Muay Thai has first rate gym facilities and is a REAL Muay Thai camp offering both budget and deluxe accommodation options at the camp creating a great family atmosphere. We welcome international students of all levels to learn traditional Muay Thai from our dedicated trainers on the paradise island of Koh Phangan.
Since Diamond Muay Thai opened its doors in 2011, our Muay Thai camp has established itself as one of the leading Muay Thai boxing camps in South Thailand. Whether you are a beginner or a pro – our large team of trainers ensure that all students receive constant one-on-one Muay Thai instruction and advice. At Diamond you will never be lost in the crowd!
---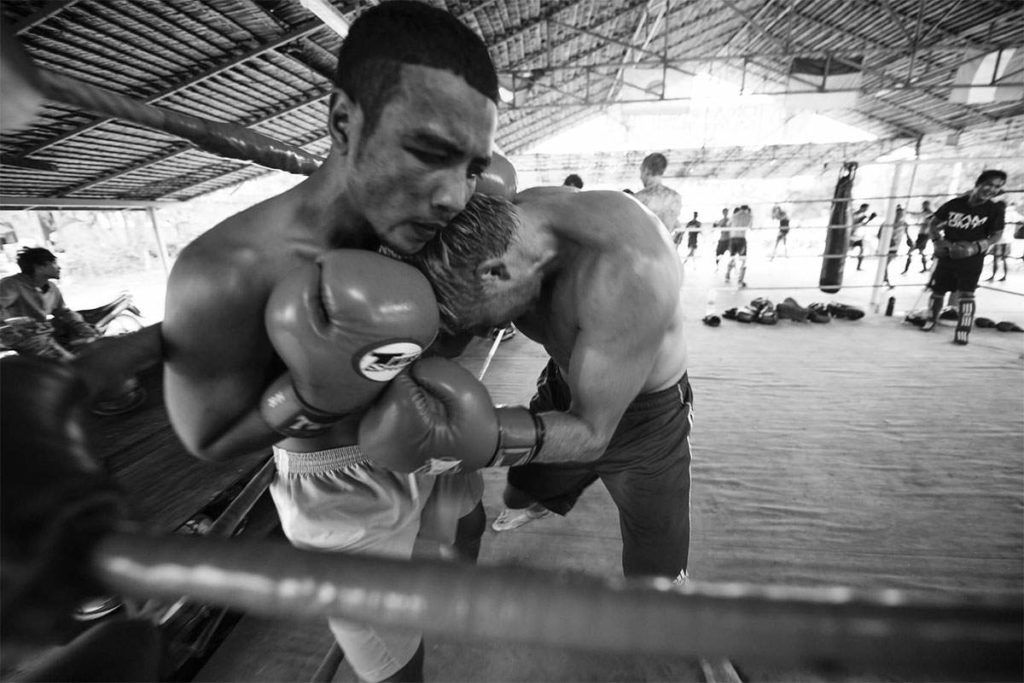 You don't have to be a fighter to train with us. Students often choose to visit our Muay Thai camp for the health benefits associated with training such as losing weight and improving fitness or to experience another aspect of Thailand's culture. We are an incredibly social camp where students from around the world are able to make life long bonds whilst learning Thailand's beloved national sport.
The Diamond Muay Thai camp not only offers superior training but has a stunning location - we are away from any main roads, in a peaceful area surrounded by coconut trees and Koh Phangan's incredible mountain scenery. Much of Koh Phangan is protected rainforest and the island is relatively unspoilt compared to others in Thailand. Diamond Muay Thai is situated a stones throw from the beautiful beaches of Nai Wok which is just outside Thong Sala- the main ferry port on Koh Phangan. Here we are within easy reach not only of the island's turquoise waters, wildlife and outdoor adventure activities but also the great range of services, shops, restaurants and bars that Koh Phangan has to offer.
At Diamond Muay Thai we are committed to providing excellence in Muay Thai training. We always maintain a great trainer-to-student ratio and each student is pushed according to his/her own fitness levels. Beginners improve rapidly under the guidance of our committed team and our Muay Thai camp is often chosen by pro-fighters to polish their Muay Thai technique. Are you looking to fight? Our trainers excel in advanced training and pre-fight preparation. In the past few years notable visitors included the Peruvian Muay Thai Team (preparing for the World Muay Thai Championships in Langkawi), World Champion Shuki Rosenszweig and US pro fighter Sean 'Muay Thai Guy' Fagan and amongst others.
SPECIAL OFFER - Introduction to Muay Thai lesson only 300 Baht
Learn all the basics in a 2 hour group training session with our English speaking team
This was my first trip ever to Thailand. Previous to my journey I put a lot of time and thought into finding the best gym to train at. In the US, I compete professionally in MMA and was looking to sharpen up my standup skills with a month long Muay Thai camp. I wanted a camp that I would be challenged at, but also that would provide me with helpful staff to get me transitioned into life in Thailand. Diamond Muay Thai passed both tests with flying colors.
After spending four weeks at Diamond Muay Thai throughout August, I can say without a doubt it was one of the best experiences of my life!!! The training and the facilities are second to none. The gym caters for every aspect of Muay Thai you could ever need. With pad holders who are old Bangkok champions, the level of knowledge they have is outstanding. They generally enjoy teaching you their tricks and watching you progress.
I cannot recommend Diamond Muay Thai highly enough after 2+ months there as a train and stay student. From day 1 the excellent trainers work with you closely on your technique and movement, helping you start from scratch or correcting little kinks to make your knees seriously lethal. As you improve, they push you harder, come at you faster, and teach you more advanced moves- you always feel like there's a higher rung on the ladder to step onto.
Diamond Muay Thai is not just a place to get fit - It's place of welcoming and belonging and a soul building experience! I stayed for 3 weeks and this was no where near enough time, and I'm sure everyone else who has experienced the camp would agree! Firstly, the trainers are truly amazing people and teachers - very professional and so funny and speak good English. Whether you're a complete beginner to Muay Thai or an experienced fighter they adapt your training needs leaving you feeling confident, motivated and strong